Cars boats bikes and planes, in Art
Ah the ricky.. is that yours? great guitars those, I think (if pushed) I had to choose a favourite, it would probably have to be a Gretsch.. as long as I could have a custom shop job of course. I've got a bit of a collection of guitars back in the UK - a couple of epiphone LP's, a BC Rich warlock (platinum), a few strats (one mad one I bought from the states with a floyd rose floating trem, and vines up the fretboad with double HB's~ no fenders though sadly) a PRS copy that I've got here with me in France, a black korean LP (cant remember who made it) a 7 string and a Kramer Bass. And lots and lots of bits! I used to buy strat bodies on Ebay, install new electrics, custom pick-guards, new necks, and get them painted at a local body repair centre! Even did a bit of engraving as I got hold of a load of polished aluminium pick guards... ah those were the days. Love guitars, me :)
Cant think of any connection to a Mustang with 'ol Jimmy - top of my head, (google!) he played a Fender Mustang - maybe that's why he wanted that particular image? A long shot that, but you never know. Great pic by the way, can't really imagine him in an Elan for some reason.
Some new art this evenin'
A flying 6R4 metro (bit of an odd one that) digital pencil and then photoshopped colour using the multiply channel (vector splodges)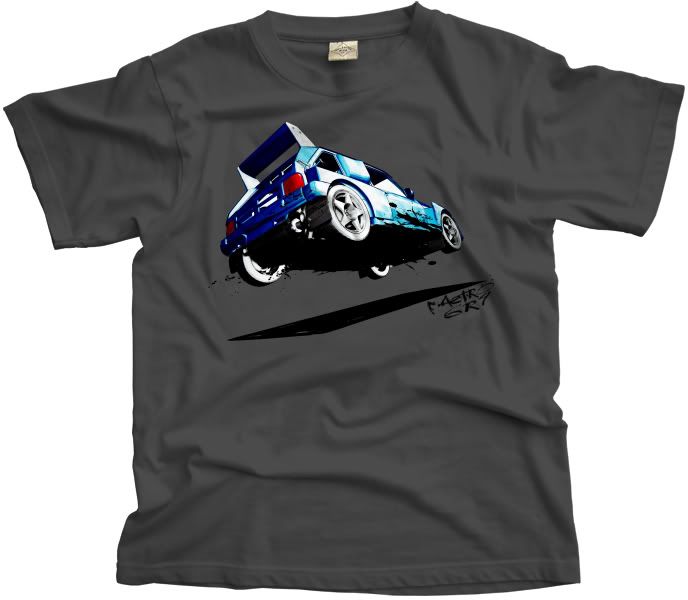 ..and some Manga which I've never attempted before, did a whole load of research today and came up with this ( took 6.5 hours that image) Background was sketched over a photograph using the wacom tab
got it on a t-shirt too :)
Of course it shoulda been an Skyline/300zx etc etc.. I just happen to have my Cosworth image up in front of me - maybe the only Manga cosworth illustration in the world?!
Catch you soon, M