Mercedes come, Mercedes go.......
Well the old girl had done me well, an '84 280E bought on arrival here nine years ago and only once trailered home when it got stuck in low gear. Even that cost me nothing, it was some dirt or debris got into the kickdown switch under the carpet behind the accelerator, and my mechanic recognised it straight away and fixed it no charge. But a year ago, we had some local floods and my wife had taken the car to work. Where it was parked was, it seems, below sea level. It rained all day, the creeks all overflowed, it was high tide and the storm drains could not make water go back up hill, so........when the water gets up to the door handles it is fair to say the car is a bit wet.
Anyway, when the water receeded, sure enough the old thing fired up and ran, but some electrical issues, no electric windows, no flashers, no central locking, and the seats and carpets would have taken a long time to dry out, so the insurers wrote it off over the phone and sent a truck to pick it up without even bothering to inspect it. We had always had it on an agreed value policy as I knew if anything happened the trade value would not reflect it's condition and no expense spared service history, so a couple of weeks later we received a nice big cheque.
Now having still got two other Mercs as well as a company car, I was not in a hurry to replace it, but six months later, I had retired from my job, (so car gone) and needed to commute regularly to Sydney. Now the 450SLC is a gas guzzler and the 190E has no air-con, so when a mint '85 280E came up locally for less than half the pay-out on the last one I had to grab it. Super clean inside and out with zero rust, I sent it straight over to my mechanic for a full and thorough service and re-gas for the air-con, so now we have another W123 that looks new, runs like a watch and keeps cool inside and under the bonnet.
Oh yes, and it cost $340 to have the darkest legal window tint, helps keep it cool when parked as the engine (and therefore the air-con) are not running.
It may not be the most glamorous classic out there, but it sure is one of the most practical.
Gone to the wreckers, but its parts probably live on in various cars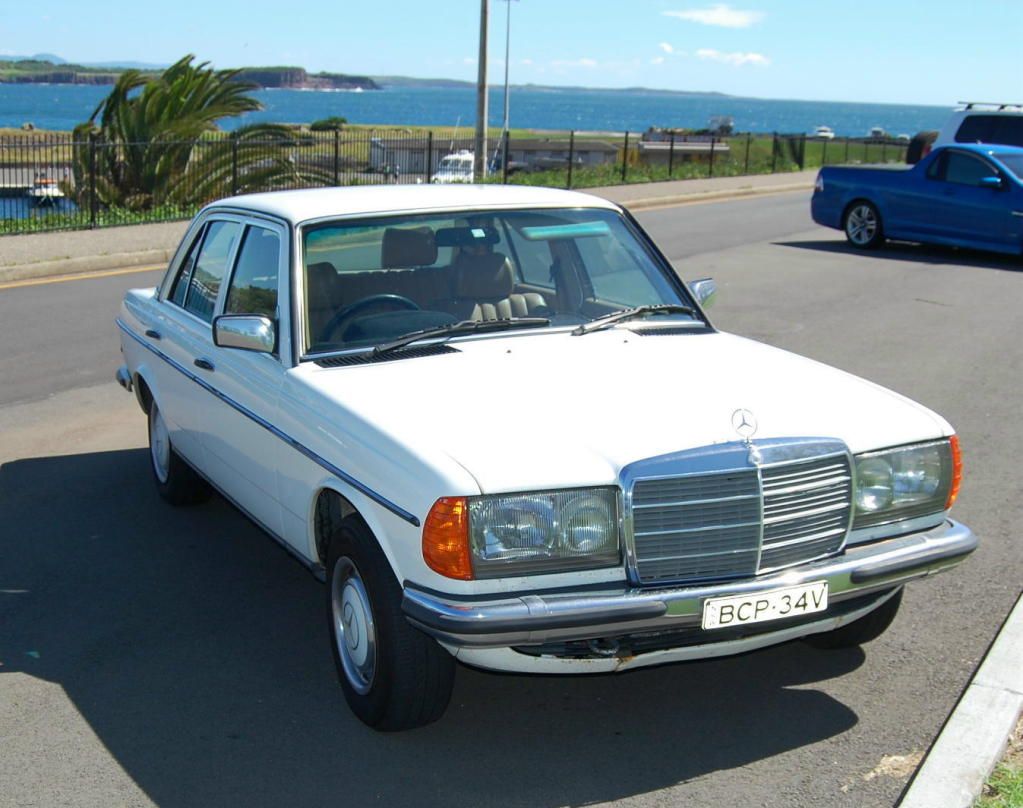 The latest in a twenty-five year run of W123s.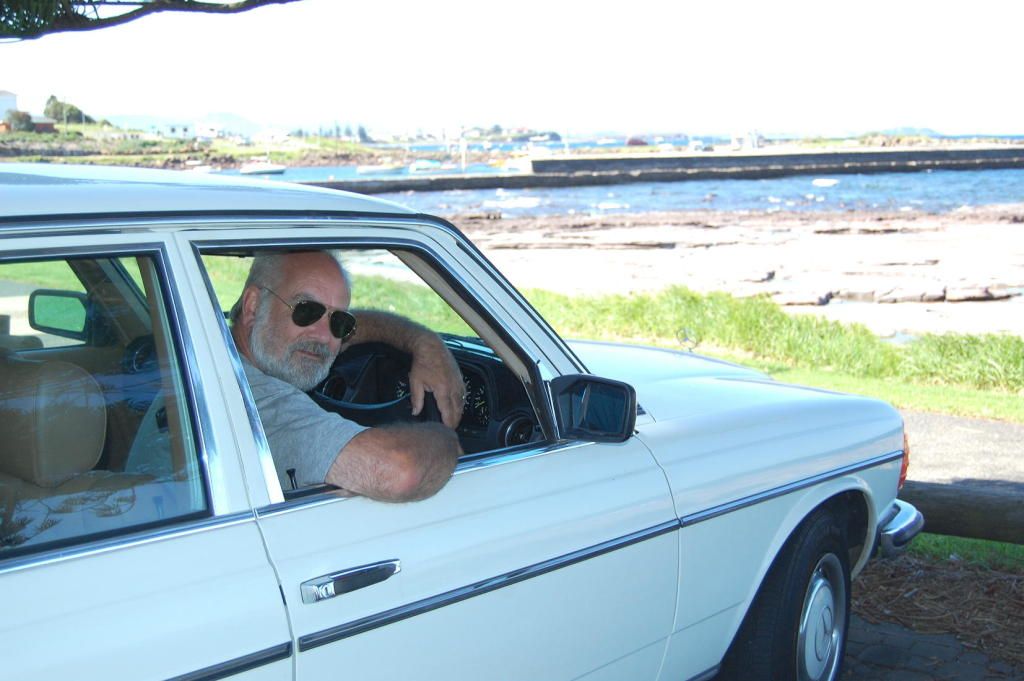 Chris M.
Well I should make clear that the blue one has gone, to be replaced by the wjite one. My photos there were taken before I had the window tints done, sorry if it didn't make sense.
But meanwhile, here's another pair of photos. My '76 450 SLC came with the normal Mercedes alloys which are probably what most had fitted. But now everyone has fancy alloys on even the most mundane Hyundai and the styling of the 107 series is starting to look like a 'classic' rather than a modern (it has taken a while to get there) I thought it might look more period if fitted with the lesser common steel rims and traditional Mercedes hubcaps. So I sourced a set, had the hubcaps reapainted to match, and fitted a second set of tyres. Would you believe it, you even need a different set of wheel bolts for the steel rims, but anyway, now I have the choice of both I am still not sure which looks best. The alloys surely belong on a 'sports car' but the old school look somehow makes a Mercedes look complete.
What do you think?
(By the way, it is the same car, the colour just looks different according to the light).
Chris M.