Sideways in a Fiat 500!
Of course, now that I am the proud owner of a 1972 Fiat 500L, I've been scouring YouTube for fine examples of this classic on the road. What I did stumble across is this excellent piece of footage from the 1980s of a chap, a dirt track and a 500. Fun is probably too small a word! (Click picture to play).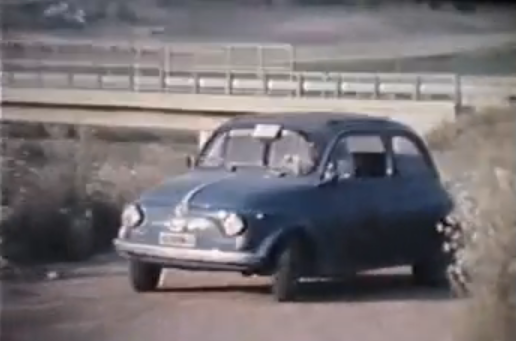 I had a brief experience driving a 500, when the second of my Dad's Fiat 2300s had to have a part replaced and I had been entrusted with taking it into Norwich(about 15 miles away).
They lent a Nuova 500L, F reg I think, Blue with a sliding sunroof, choke and starter levers on the floor above the rubber carpet. The only thing I felt i might have a chance of Drag racing in it with would have been a Reliant Regal, or milk float but having had some experience with tractors didnt find the crash box too onerous(it was a joy listening to the senorious note of that 2300 double de clutching down the box, just remebering to lift foot up in between cogs on the 500.
The big Fiat seemed like a supercar after and I was glad for my small part in persuading him not to get a Ventora, instead of the first one!
I later owned the second 2300, and even later still had a Radbourne Abarthed Fiat 127 which cost me all of 90 pounds (and got a certificate proving it went around Brands)but the rear suspension turret surround rotted through after class leading at several local sprints, and it started handling like a Vitesse I had owned also.
I did manage to swap Mum's old moggie minor for a Fiat 600 complete with suicide doors after she got a Hillman Imp, which was also rather in the idiom of those great fun rear engined little cars.